Here's a little bit about each member of the fools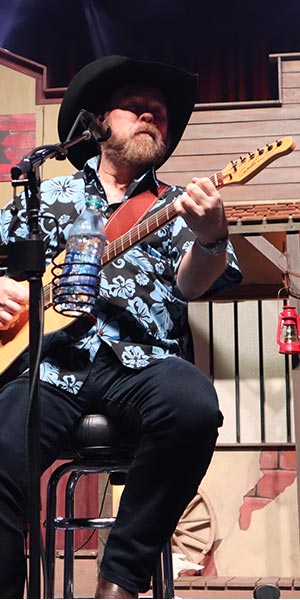 Singing, writing and performing music has taken Doc all the way from the legendary Palomino Club house band in North Hollywood California, to the stage of the Grand Ole Opry in Nashville Tennessee. His credentials include appearances on Hee Haw, On Stage, The Beach Boys Endless Summer, and the Grand Ol Opry Radio and Television Show. He has played, toured and recorded with such diverse international talents as Highway 101, Johnny Lee, Janne Browne and Bob Carlisle, author of the hit song Butterfly Kisses. Doc has toured the US extensively and performed internationally at the Singer/Songwriter festival in Frutigen, Switzerland as well as country music festivals in Badischl, Austria and Sao Paulo, Brazil.
Doc has both produced and played on projects by Texas singer/songwriters Bart Crow, and Grammy award winner Maren Morris. He has also recorded and toured with Larry Joe Taylor, whose six-day event "LJT's Texas Music Festival" draws over 60,000 music fans every year.
As an on-air radio personality Doc produced and voiced his own nationally syndicated radio show that aired in seventy-five markets nationwide. He also wrote, produced and hosted a morning show on KSTV radio out of Stephenville Texas.  Currently Doc is the voice of "Sunday Morning Coming Down," a syndicated radio program that airs nationally for which he is often recognized by fans everywhere.
  To round out his extensive career, Doc owns and operates Behind the Barn Productions, a recording and mastering studio. In his studio he writes as well as voices jingles for radio and television and produces and records his original material. His popular CD, "Tacky Tunes from Texas" is a timeless collection of funny tales put to rhythm and rhyme that continues to be a fan favorite today. Doc's newest CD titled "Cocktails and Waitresses" is a compilation of 13 original songs that is filled with audience loving hits, destined to be another classic.
Doc Wesson is a true triple threat as a singer, songwriter, and producer…but where he really shines is in his ability as an all-around entertainer-—delighting audiences with his easy approachable style, quick wit, and amusing interactions!
Jim Richmond, AKA Diamond Jim, is an accomplished multi-instrumentalist and singer who has been performing music professionally for over 30 years. Jim began his music career in Colorado, working the Denver/Boulder club scene and resort areas. He then moved to Nashville and formed the Tennessee Hat Band. Jim and his group became the original David Allan Coe band. After relocating to the Dallas area, they soon became one of the hottest groups in the Outlaw Country movement taking place in Texas. Jim and the Hat Band next teamed up with Texas Music legend Rusty Wier for several exciting years. The Hat Band continued to tour Texas and the south where they also played their own music for several years. Jim's wide range of musical abilities has placed him as a key player in 3 Fools on 3 Stools as well as popular studio musician. Playing acoustic / electric guitar, pedal steel, dobro, mandolin, and fiddle, Jim has worked and recorded with many Texas music artists; he can be heard on recordings by Ray Wylie Hubbard, Jack Ingram, Macon Greyson, Tommy Alverson, Doc Wesson, and many more. With the recent release of his "Live in Waxahachie" CD, Jim showcases his songwriting abilities as well as many of his life-long favorites. Jim always delivers a show stopping performance with his stellar musicianship, unique lead vocals and fine vocal harmonies.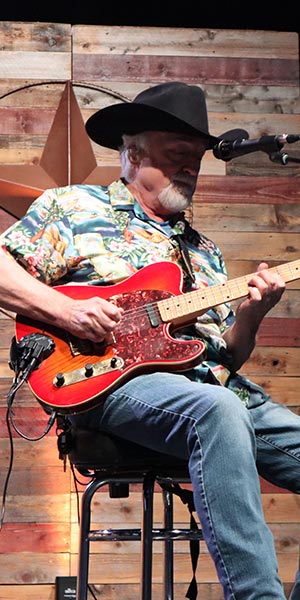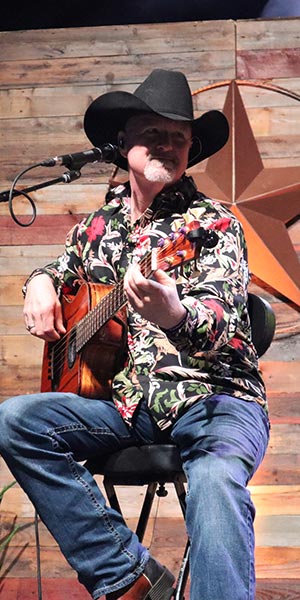 Kerry is an established musician out of Austin with seasoned experience on the national stage in concert, orchestral performances, in the studio and on Broadway. In addition to vocals he plays electric bass, upright bass, viola, tuba and tenor trombone.
His artistic career has lead him to the stage alongside Don Henley, Willie Nelson, Stevie Wonder, Olivia Newton John, Ray Charles, Aretha Franklin, Barbara Mandrell, The Temptations, Kelly Mattea, Gary Morris, and the Gatlin Brothers. Kerry's impressive list of Broadway performances includes hit shows such as Chicago, Cats, The Color Purple, Lion King, West Side Story, Les Miserables, Phantom of the Opera, Music Man, Sound of Music, Wicked, Mary Poppins, Fiddler on the Roof, The Producers and many more.
His orchestral work is expansive as well with credits in the Wichita Falls Symphony, Austin Symphony, Fort Worth Symphony, San Antonio Symphony, Dallas Symphony and the Andrew Lloyd Webber Comfort. He's also performed in the Mid-Texas, Midland, Corpus Christi, San Angelo, Cameron and Loredo symphonies. He has also performed for Disney World, Opryland and Six Flags Over Texas as well as feature sound track performances on Spy Kids 1 & 2 and The Alamo.
Williams attended the University of Texas as well as North Texas, and has earned both his Masters and Performance Doctorate degrees. Kerry's many talents and accolades are far-reaching having spent his lifetime following his passion for music…and we're lucky to have him on a stool with the Fools.